Few pieces of gear arouse greater curiosity in guitarists than boutique effects pedals. Often Objects d'Art, these mysterious little boxes embody the promise of adding unusual–and possibly even unique new–colors to our tonal palates. Sure they can cost considerably more than mass-produced pedals, but what price do you put on art? And how do you measure the worth of a tool that might be critical to achieving your own individual musical voice?
We can't know your tastes, of course, but we can tell you that the six of best guitar distortion pedals reviewed here are all packed with personality, and each offers its own distinct approach to creating "good" distortion. I auditioned each pedal using a late '80s American Standard Srat, a '68 Les Paul Custom, a PRS Custom 24, and a Dean Evo Premium. Amps included a Rivera Thirty-Twelve, a Bogner Metropolis, and a mid-'60s Fender Twin. The latter provided the highest hurdle as it is super-clean and very unforgiving.
It is obvious that the manufacturers took great care when creating these pedals. They are all housed in ruggedly constructed casings, and I found no wobbly jacks, knobs, or switches. Though there are significant external aesthetic differences, only the finest components have been used, and the wiring is clean and nicely detailed. With the exception of the Pete Cornish P-2 Fuzz, all of the pedals feature true-bypass switching, and all but the Analog Man Sun Face have sockets for external AC adapters.
Analog Man Sun Face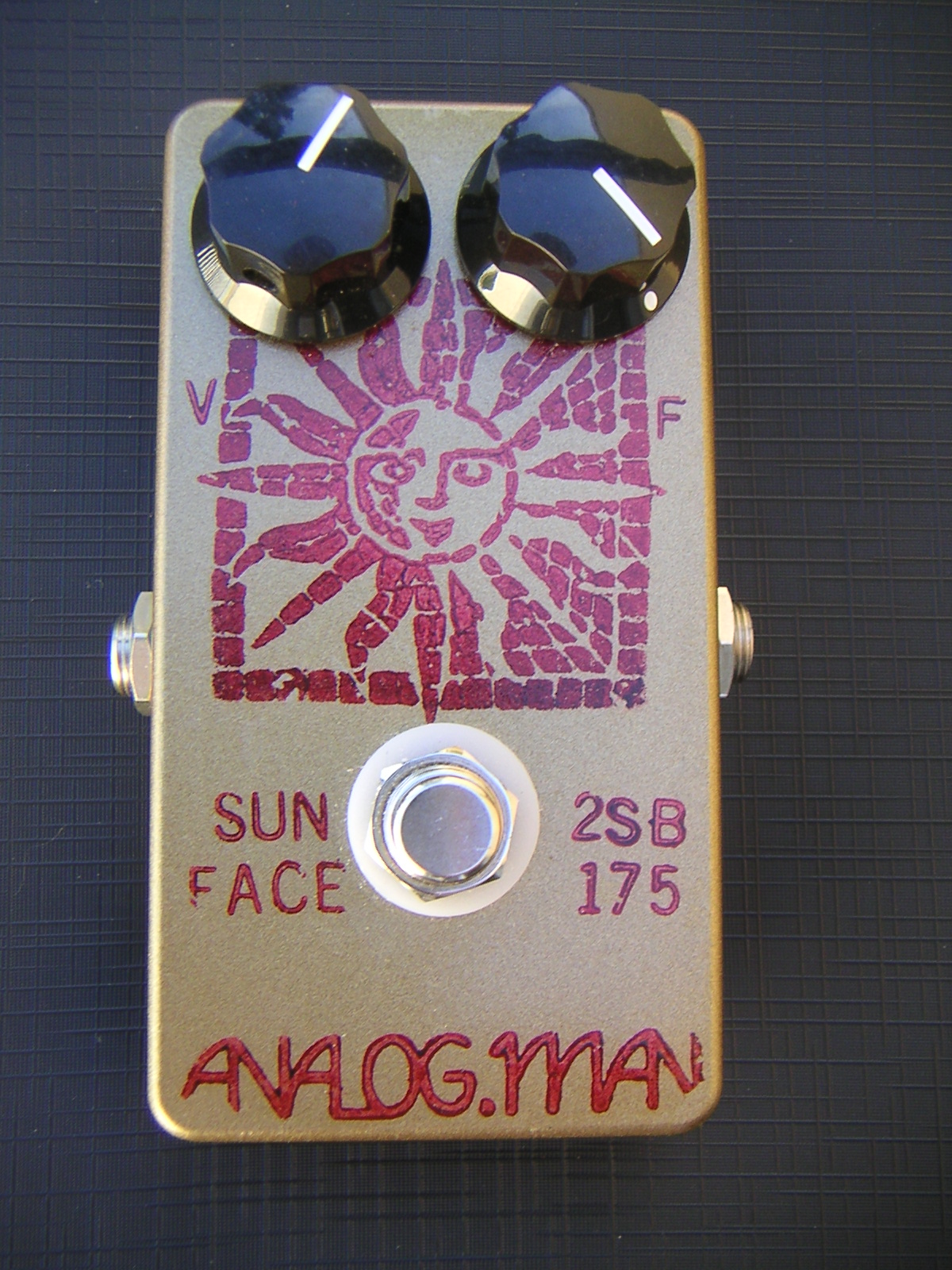 The Sun Face replicates the germanium transistor circuitry used in the classic Dallas Arbiter Fuzz Face. The review pedal contained the optional NOS '60s NKT-275 transistors. The Sun Face has no LED and operates only on a 9V battery–two factors the manufacturer feels are necessary to achieve the original Fuzz Face sound. Besides the volume and fuzz knobs on the outside, there are also internal pots labeled Trimmer and Bias. The former cleans up the fuzziness in the same way that dialing your guitar's volume control back would, and the latter adjusts the operating voltage, allowing you to fine-tune it for optimal performance (or cause the pedal to cough, spit, sputter, and make other rude noises).
The Sun Face makes basically one very good sound. True to the original, the Sun Face doesn't have gobs of sustain, but it also lacks the characteristic raspiness found in some vintage Fuzz Face pedals. There's lots of gain, it responds extremely well to playing dynamics, and the sound cleans up dramatically when your guitar's volume is pulled back. The Sun Face sounds as good or better than the vintage Fuzz Faces I've heard, and it costs a lot less.
Barber Electronics Direct Drive
Don't let the price fool you–the Direct Drive is hand-built in the U.S. using the finest components, and it easily outperforms units costing several times as much. Though it has only three knobs, pulling out the push/pull tone control really fattens up the harmonics, and changing the operating voltage (9-18V) yields additional tonal possibilities.
I was able to get a wide variety of very musical sounds out of the Direct Drive–from crunchy blackface blues tones to spongy vintage Hi-Watt-like overdrive to supersaturated tube distortion–and it sounded great with every combination of guitars and amps. This pedal would be a bargain at twice the price.
Brotech Electronics Fatpipe Pro
The versatile Fatpipe Pro offers both distortion and clean boost, and the two modes can be used together or independently. The distortion section includes a three-band act/ye equalizer–meaning you can cut and boost frequencies–that provides a great deal of tonal flexibility.
The Fatpipe Pro produces a very tube-like distortion that's somewhat reminiscent of a vintage Ibanez TS-9. The EQ is nicely voiced and generally quite useful, though the bottom-end can get a little wobbly. The clean boost is very rich and full, and it combines nicely with the distortion section, allowing you to add just the right amounts of edgy crunch and sustain.
J. Everman Fuzz Drive
The Fuzz Drive combines both fuzz and overdrive circuits. The pedal's four exterior controls are fairly straightforward, but there are also six DIP switches located on the inside of the unit that provide nearly endless tweaking options. The Bias knob and the first three DIP switches determine how the pedal responds to your guitar's particular pickups, and the Fuzz and Drive knobs interact with each other–and the other three DIP switches–to alter the gain structure in various ways. Do the math–there are lots of possibilities.
The Fuzz Drive provides a warm and punchy clean boost, full and throaty overdrive, and wonderfully complex distortion tones–and it's capable of pumping out huge amounts of gain. Furthermore, harmonically elaborate chords retain their individual note articulation–even on heavily distorted settings. This capability distinguishes the Fuzz Drive from most of its peers.
Jacques Fuse Blower II
The Fuse Blower II packs lots of tonal flexibility into a tiny package. Billed as three distortions in one, it features three Blow knobs for dialing-in high, mid, and low-frequency distortion, as well as having an overall tone control. The three distortion circuits function more-or-less like a 3-band EQ, but with most of the action happening in the high end. The pedal is relatively quiet, even when set to maximum distortion.
Although the Fuse Blower makes some great sounds–and provides a plethora of sonic options–I found its tone to be a little thin, with a tendency to get raspy when the highs are cranked. Pumping up the lows and severely rolling back the highs helps, but leaves little headroom for further adjustments–which significantly decreases the usefulness of the EQ. Naturally, guitars with humbuckers required less compensation than those with single-coils.
Pete Cornish P-2 Fuzz
For more than three decades, the venerable Pete Cornish has been building custom pedal-boards and effects-switching systems for superstars such as Jimmy Page, Eric Clapton, Sting, and David Gilmour. He has also created a line of hand-built effects boxes, of which the P-2 Fuzz is the latest addition. The P-2 measures an appreciable 4.25″x7″x2.5″, and sports internal shielding that contributes to its ultra-quiet operation. Cornish eschews true-bypass switching, and you find out why by reading "The Case Against True Bypass" on his Web site. (It has to do with gain staging, and how multiple-pedal setups and cable runs affect tone and volume.)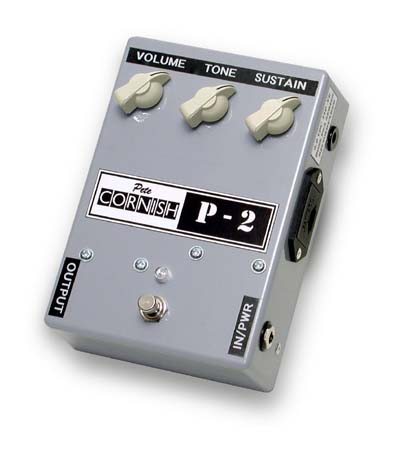 The P-2 delivers extremely fat, smooth, and harmonically rich distortion tones, ranging from a relatively mellow crunch to searing high-gain sustain. The pedal is also extraordinarily responsive to playing dynamics, deans up nicely with even slight guitar volume adjustments, and it provides uncanny single-note definition within chords. Finally, it can crank out insane amounts of gain. If you are a serious tone nut, and fuzz is a major part of your sound, you owe it to yourself to check this thing out. Astonishing!